This post may contain affiliate links. If you buy thru these links, we may earn a commission at no additional cost to you.
---
Sure, going to the gym is an awesome way to work out, but it isn't the only way to work out!
Personally, I despise the gym — always have. I prefer outside workouts.
Being able to strap on a pair of running shoes and head out the front door is a great alternative to gym workouts.
Working out doesn't belong only in the gym. It belongs with you — and you take it with you wherever you want to do it. Your body is your own gym.
I've already showed you some great ways to workout at home and if you're not afraid of thinking outside of the box, I'll show you how to incorporate the elements around you into your fitness regimen.
See how to get some great outdoor workouts in no matter where you are — at home, traveling, or at work.
These are my best tips for incorporating the resources around you into your workouts — whether you're at the beach, at the park, in your living room, or out on the trail.
The more you try these tricks, the more you'll notice unusual opportunities for testing and increasing your body's strength.
#1 – Find The Courts
Even if you haven't played tennis for decades (or at all) — it's never too late to start. And it's quite easy to find a tennis court where you live, where you're vacationing, or traveling for work.
Developing your sprint speed and stamina will do wonders for your tennis game… and your body!
Chasing down lobs, drop shots, and angled shots requires quick, successive bursts of running.
Logging hours at a steady pace on a treadmill or bicycle won't help you build the kind of explosive start and quick-stop muscle strength you need on the court.
For example, try this quick stamina-building tennis court workout:
Do a few laps around the tennis court with this twist: jog counterclockwise around the court, but run facing forward on the right side — baseline to baseline.
Shuffle sideways along the baseline, and then run backwards down the left baseline.
Shuffle along the baseline back to the right side and repeat.
Repeat laps at least 3 times.
Don't forget the basketball court. It's super-easy to find basketball courts wherever you are — so let's get dribbling!
See how many calories you burn playing outdoor sports.
#2 – Jump In The Lake
Grab your swim trunks or a bathing suit and head to the closest lake. Get ready for some outdoor recreation, exercise, and fun.
Have you tried water running? It's a great resistance workout and can be done in just about any body of water.
You can also burn tons of calories and strengthen your legs simply by using a kick-board
, water noodle
, or raft
while enjoying your time at the lake.
Feeling a little more adventurous? Maybe paddleboarding is for you.
Have you ever watched someone on a paddleboard
? It doesn't even look like the sport requires all that much effort. But don't be fooled — once you plant your feet on a board and head out, you quickly learn the effort involved goes way beyond what meets the eye.
Some things you should know about paddleboarding:
Go out, paddle, and be safe. Make sure you do your due diligence and contact a local paddleboard shop to get the inside scoop on where to go and the best way to start paddling.
Check out these helpful tips for beginner paddleboarders.
 #3 – Enjoy A Sandy Beach
Most beaches have a natural slope as they lead down to the ocean — so there's no need for outdoor fitness equipment at the beach! Use that natural beach slope to increase the challenge with exercises like push-ups, lunges, and planks.
The sand itself is ideal for exercise. It absorbs your weight, which is gentle on your joints, but it also shifts, which forces you to work your core to stabilize your balance.
Here are some great tips for beach workouts:
If you're new to sand workouts, start on wet sand — it's firmer and provides a more stable base of support.
Exercise on level sand — running and jumping on an angle (as you would along a shoreline) puts you in an awkward position, which could cause injury.
You can go barefoot or wear sneakers when you're on coarse, cold, or hot sand — you'll burn the same number of calories either way, so base your choice on comfort.
If your beach has a boardwalk, take advantage of the benches — they're terrific for triceps dips, step-ups, and elevated push-ups.
Don't forget about one of the summer Olympics fan favorite sports — beach volleyball!
Here are some tips for the beginning beach volleyball player.
#4 – Go To The Park
Your local park is likely filled with outdoor fitness equipment.
Don't know where the best parks are? There's an app for that! Check out the Oh Ranger! ParkFinder app.
At a park, you've got plenty of wide open space. Bring your exercise mat (or don't) and have yourself a bodyweight-only workout on the grass.
You can also head to the children's playground, where there's plenty of equipment to use. The high bars and monkey bars are great for chin-ups and hanging leg raises. The balance bars are good for leg raises too, as well as tricep dips and push-ups.
Here are some other great outside workouts you can do at the park.
#5 – Hit The Trails
A walk (or hike) is a wonderful way to combine exercise with nature.
If you want to step it up a notch, you can use large rocks and trees with sturdy branches as mini-gyms:
A branch growing parallel to the ground is good for pull-ups and knee raises.
Use flat-topped, stable boulders for leg work like step-ups, jumps, and stretches.
When you do squats, lunges and other strength moves uphill, and then run downhill, you'll get a balanced lower-body workout. The uphill exercises target the glutes, calves, and inner and outer thighs, while downhill running works your quads. Bonus: Doing strength moves on an incline requires more energy — so you'll burn more calories, and managing uneven ground as you descend improves balance and coordination. Source
If you love a good challenge (and aren't afraid of hills), consider this trail-running workout!
What If You Can't Leave Home?
Being stuck in the house is no excuse for not working out — even if you don't own a single dumbbell.
Have you got a strong coffee table? How about a couple of cans of soup?
TIP: I've previously shared some of my best at home workouts — give them a try!
Use your stairs or the steps to your front door for calf raises.
A basketball, volleyball, or small beach ball (heck, even a full backpack!) can be used to do uneven push-ups — with one hand balanced on the ball and the other hand on the floor.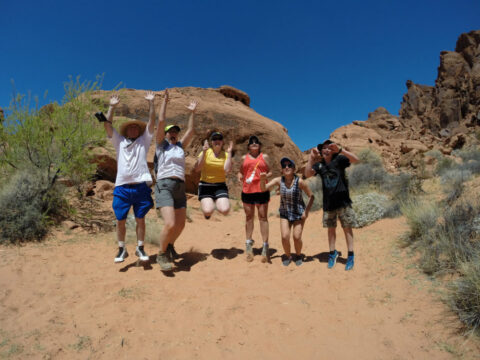 The gym is a great resource, especially when you need the extra motivation that comes with being surrounded by other people working hard. But fitness isn't just about the gym.
There are so many outdoor gym ideas that allow you to get in shape wherever you are.
Fitness is a life choice. No matter where you are, you have the ability to honor your commitment to fitness.
Get Fit Without Outdoor Fitness Equipment Or A Gym
In addition to the links I've included above, here are some more that I've found helpful when looking for outdoor fitness ideas:
I'm a health nut, a frugal mom, a dog lover, a DIYer, and a gadget girl. Personally, as a post-divorce, working single mom on a budget I have a lot of experiences that I enjoy sharing so others can learn from the things I wish I knew earlier! Professionally, I've worked full-time in a variety of marketing, sales, and editing jobs. You can always find me at the corner of Good News & Fun Times as Managing Editor at The Fun Times Guide (32 fun & helpful websites).