This post may contain affiliate links. If you buy thru these links, we may earn a commission at no additional cost to you.
---
Eating healthier is a must for anyone who wants to feel great and lose weight.
Eating right can give you a lot of energy while giving your body the nutrients that it needs.
Although it's crucial to have a healthy diet, it can be hard to stay within a food budget.
Healthy food is generally more expensive than fast food, but there are a few tips you can follow to eat healthy and not break the bank.
Buy Cheap, Healthy Protein Sources
Lean cuts of red meat or fillets of salmon can be very expensive.
When it comes to eating healthier, it's all about what kind of healthy protein you buy and eat.
Instead of purchasing the more expensive fish, there are several cheaper alternatives that are just as healthy or even healthier.
Tuna is a great option for a healthy diet on a budget.  Canned tuna can be bought for a very reasonable price, and as long as you check which companies are the best, you can get really good quality tuna for cheap.
Milk is also a reasonably cheap source of protein and has a slew of other vitamins to boot.  There are several cheap but healthy protein options out there.
Don't Forget Frozen Food
A lot of people shy away from frozen food because they think it isn't healthy.
Freezing food is, in reality, a wonderful way to preserve the nutrients of food and keep them fresh for a long time.
Frozen vegetables and fruit are excellent sources of vitamins and minerals.  They are a crucial part of a healthy diet, and frozen foods are usually about half the price of fresh food.
Buying in bulk can save you even more money.  You'll get quality food that's healthy and a great price.
Take Advantage of Sales
When your supermarket has good sales on food, make sure to buy healthy food with a long shelf-life in bulk.
Rice, oats, frozen vegetables, and other foods of this sort will last a long time and can be a wonderful part of your diet.
Also watch for sales on chicken, salmon, and other healthy meats, and make sure to buy more of them when they're on sale.
Anything you don't eat immediately can be frozen to last longer.
Only Buy Fresh Foods at Certain Times
Fresh fruits or vegetables are much more expensive when they aren't in-season.
It can be hard on your wallet to buy fresh fruit and vegetables at the wrong time.
Always buy them when they're in-season, and you'll save a lot of money.
Find a Good Supermarket
Although some people are able to amass great savings by going to several different stores and supermarkets, it can waste a lot of time and cost a lot of money because of gas.
Instead of having to drive to all sorts of places, just try to find a couple of stores near you that consistently sell food at a reasonable price and stay with them.
Do a good amount of research first to make sure they are the stores you want to buy most of your food at.  It'll save headaches and gas money.
Eating healthy can be difficult at times, but with a little research and know-how, it doesn't have to cost a fortune.  Your body needs a good diet that will keep it strong and healthy, so taking advantage of every sale and method of saving can help you eat healthy for less.
Our guest contributor, Rachel Oda, knows that eating healthy doesn't mean giving up your favorite foods. To find healthy pizza recipes, go to Pizzadelivery.org.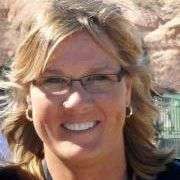 Professionally, I pursued my Masters Degree in Family Therapy at Texas Tech — where I obtained invaluable expertise and experience helping people with a wide variety of physical and emotional health issues. Personally, I think it's useful when people realize that they're not the only one going through a difficult time. So any time that I think my personal health experiences would be helpful to someone else going through the same thing, I will share my story here. With health issues that I've personally experienced (like Endometriosis, Lyme Disease, Hysterectomy, Skin Cancer, Ganglion Cysts, Autism, and other topics that very few people enjoy talking about) and health products that I've found beneficial (like sleep aids, essential oils, and medications)… I do my best to provide my own raw and honest firsthand experiences that I think others would appreciate hearing about and (hopefully) find helpful. I'm grateful that I have a number of friends who have also been willing to share their very personal stories here — regarding their own physical and emotional health. When I'm not writing about health topics, you will find me sharing Good News & Fun Times as publisher of The Fun Times Guide (32 fun & helpful websites).