---
We write about products and services that we use. This page may contain affiliate links for which we receive a commission.
Consider this my one-person mission to get the entire world to yawn (…or at least all 10,000 or so of you reading this website right now!)
Go ahead…
Try & fight it.
But before you finish this article you'll yawn.
Guaranteed.
Try To Not Yawn…
I Dare You!
Usually, just thinking (or reading) about yawning will make you yawn.
And when the person next to you yawns, forget about it… you'll yawn too.
Try & fight the yawn #1: Pictures of people (and pets) yawning…
It's widely assumed that yawning occurs because we are tired or bored or because we see someone else doing it, but there isn't any hard evidence to support these beliefs. The most plausible explanation, and the one that is taught in medical school, is that we yawn because oxygen levels in our lungs are low. Source
But even this has been disputed…
Try & fight the yawn #2: Fun Facts About Yawning…
Try & fight the yawn #3: Yawn sounds…

A collection of yawns & yawning sounds


Sounds of yawns


Yawn sound effects
So there.
Now that you're feeling very sleepy… my work here is done.

More About Yawning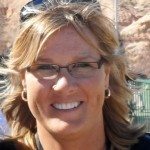 Professionally, I pursued my Masters Degree in Family Therapy at Texas Tech — where I obtained invaluable expertise and experience helping people with a wide variety of physical and emotional health issues. Personally, I think it's useful when people realize that they're not the only one going through a difficult time. So any time that I think my personal health experiences would be helpful to someone else going through the same thing, I will share my story here. With health issues that I've personally experienced (like Endometriosis, Lyme Disease, Hysterectomy, Skin Cancer, Ganglion Cysts, Autism, and other topics that very few people enjoy talking about) and health products that I've found beneficial (like sleep aids, essential oils, and medications)… I do my best to provide my own raw and honest firsthand experiences that I think others would appreciate hearing about and (hopefully) find helpful. I'm grateful that I have a number of friends who have also been willing to share their very personal stories here — regarding their own physical and emotional health. When I'm not writing about health topics, you will find me sharing Good News & Fun Times as publisher of The Fun Times Guide (32 fun & helpful websites).