In our never-ending quest to find property on which to build our new house, we have been traipsing in… through… up… and over… tall, thick brush filled with ticks!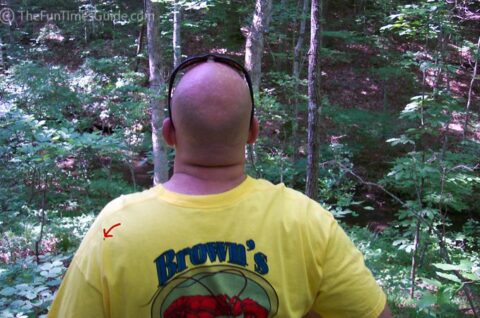 Here's what I've learned about the dangers of ticks. (Like not all ticks carry the dreaded Lyme disease.)
And the best tip of all: The best way to remove a tick!…
All About Tick Bites
There are a number of experts who have compiled lists of what to look for, how to remove, and how to prevent tick bites.
My favorite ones are here:
According to a Newsweek article, "ticks feed on humans for at least 72 to 96 hours" and their favorite areas on the body are the armpits and groin area.
On us, the ticks seem to prefer our calves — knees (front and back), waist, calves, ankles, and — did I mention calves? FYI, we were always wearing long pants and DEET
!
Our Experience With Tick Bites
Judging from the above information, we have been bitten by mostly Lone Star Ticks, and plenty of Tick Larva!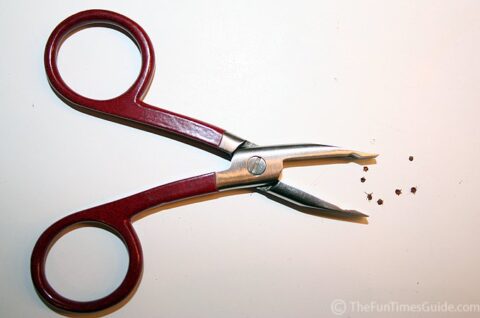 Before this summer, I had never seen ticks as small as the ones pulled off our legs, arms and other parts.
Apparently these are Tick Larva or Nymphs, and I'm here to tell you… they leave the itchiest bite of all!
These tiny ticks are fairly easy to pull off your skin, but the itch lingers on for DAYS… even weeks.
There for awhile, my skin kept bruising from all the scratching I was doing. These little buggers pack a mighty bite! Then I started using Benadryl, and applying a Cortaid-type product to the bite, and the itching went away much faster.
For the record, most of the ticks we pulled off our dogs this summer were Dog Ticks and Lone Star Ticks:
Neither Lone Star Ticks nor Dog Ticks are carriers of Lyme Disease. I can only guess that since the tiniest ticks Jim & I pulled of ourselves were more brown than black in color, that they were probably not the Deer Ticks that are responsible for Lyme Disease. Whew! (Nor have we ever spotted larger Deer Ticks either on ourselves or our dogs.
The #1 BEST Tip I've Learned Is…
Here's the best way to remove a tick from your skin:
First, using tweezers, grasp the tick as close to its head as possible. (Not the tick's back, which is the largest and easiest to grab.) Gently lift the tick away from your skin until your skin puckers. Hold the tick in this position until the tick lets go. This may take a few seconds to one minute.  Source
Other Popular Tick Removers
Check out the many tick removers and tools useful for removing ticks.
The Bottom Line
After all of that… I found out that now I have Lyme Disease. (Told ya we've had our fair share of tick bites!)  It's from a tick bite I received over 6 months ago.
I ended up following my own tips for the best way to remove a tick and we've since learned about another (better) way to prevent tick bites: Permethrin instead of DEET!
Also, did you know that you can get Lyme Disease from your dog? (Mine was obtained from a direct bite from a tick, not from my dog.) Here's how to tell if your dog has Lyme Disease from a tick bite.
Be sure to check yourself — and your pets!  Follow our tips when removing ticks, educate yourself about the different types of ticks, and follow our advice for removing ticks on dogs.
These videos show you how to remove a tick from your dog:
Real People – Real Experiences – Real Helpful
We've learned a lot over the years, especially since my Lyme disease diagnosis, so here are a few more articles from The FunTimes Health Guide about preventing mosquito bites, recovering from Lyme disease, and what you need to know about insect bites: