This post may contain affiliate links. If you buy thru these links, we may earn a commission at no additional cost to you.
---
Ever since I saw Jennifer Aniston give Oprah this photo yoga mat as a gift on the Oprah show, I've been completely intrigued by it.
Oprah's has a photo of her beloved dogs on it.
Jen and Oprah aren't the only celebrities who use the YogaMatic yoga mat.
Vince Vaughn and His Mom Workout with Ellen
The YogaMatic photo yoga mat is so unique… it can be customized just for you with whatever scene motivates you and means something special to you.
That's mostly why I love it.
Heck, you can actually put lots of photos on one yoga mat!
You can try out the YogaMatic customization process for FREE online — to see how your photo will look on a yoga mat.
My Personalized Yoga Mat
If I do decide to get one, mine will have a beachy scene on it.
I'm thinking an extreme close-up of the sand & shoreline of a beach I've actually stepped foot on and photographed myself. That's what will "personalize" it for me. Showing some actual feet in the sand would be nice too.
I have several photos that I've taken that I could do this with — including my barefoot on the beach wedding photo, and some photos from our vacation in Aruba.
Actually, my goal is to stage a photo just for this yoga mat.
I'd like to "write in the sand" a motivating or personalized message that will make this yoga mat even more unique and customized just for me. Something along the lines of what we did before we decided to move.
What do you think?…
What would your personalized photo yoga mat look like???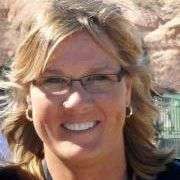 Professionally, I pursued my Masters Degree in Family Therapy at Texas Tech — where I obtained invaluable expertise and experience helping people with a wide variety of physical and emotional health issues. Personally, I think it's useful when people realize that they're not the only one going through a difficult time. So any time that I think my personal health experiences would be helpful to someone else going through the same thing, I will share my story here. With health issues that I've personally experienced (like Endometriosis, Lyme Disease, Hysterectomy, Skin Cancer, Ganglion Cysts, Autism, and other topics that very few people enjoy talking about) and health products that I've found beneficial (like sleep aids, essential oils, and medications)… I do my best to provide my own raw and honest firsthand experiences that I think others would appreciate hearing about and (hopefully) find helpful. I'm grateful that I have a number of friends who have also been willing to share their very personal stories here — regarding their own physical and emotional health. When I'm not writing about health topics, you will find me sharing Good News & Fun Times as publisher of The Fun Times Guide (32 fun & helpful websites).