---
We write about products and services that we use. This page may contain affiliate links for which we receive a commission.
---
This is fairly deep…
…insanely honest
…and very true.
For the New Year, why not take a few moments to evaluate your hopes & dreams?
Use this as a guide to help you achieve only those things that are truly important in life…
How To Stay Young:
1. Throw out nonessential numbers. This includes age, weight and height.
Let the doctors worry about them. That is why you pay "them"
2. Keep only cheerful friends. The grouches pull you down.
3. Keep learning. Learn more about the computer, crafts, gardening, whatever. Never let the brain idle. "An idle mind is the devil's workshop." And the devil's name is Alzheimer's.
4. Enjoy the simple things.
5. Laugh often, long and loud. Laugh until you gasp for breath.
6. The tears happen. Endure, grieve, and move on. The only person, who is
with us our entire life, is ourselves. Be ALIVE while you are alive.
7. Surround yourself with what you love, whether it's family, pets, keepsakes, music, plants, hobbies, whatever. Your home is your refuge.
8. Cherish your health: If it is good, preserve it. If it is unstable, improve it. If it is beyond what you can improve, get help.
9. Don't take guilt trips. Take a trip to the mall, even to the next county; to a foreign country but NOT to where the guilt is.
10. Tell the people you love that you love them, at every opportunity.
And, always remember…
Life is not measured by the number of breaths we take, but by the moments that take our breath away.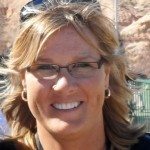 Professionally, I pursued my Masters Degree in Family Therapy at Texas Tech — where I obtained invaluable expertise and experience helping people with a wide variety of physical and emotional health issues. Personally, I think it's useful when people realize that they're not the only one going through a difficult time. So any time that I think my personal health experiences would be helpful to someone else going through the same thing, I will share my story here. With health issues that I've personally experienced (like Endometriosis, Lyme Disease, Hysterectomy, Skin Cancer, Ganglion Cysts, Autism, and other topics that very few people enjoy talking about) and health products that I've found beneficial (like sleep aids, essential oils, and medications)… I do my best to provide my own raw and honest firsthand experiences that I think others would appreciate hearing about and (hopefully) find helpful. I'm grateful that I have a number of friends who have also been willing to share their very personal stories here — regarding their own physical and emotional health. When I'm not writing about health topics, you will find me sharing Good News & Fun Times as publisher of The Fun Times Guide (32 fun & helpful websites).