---
We write about products and services that we use. This page may contain affiliate links for which we receive a commission.
Tricia Cunningham was recently in the news for following something she calls the "Backwards Diet".
Supposedly, she started "eating backwards" 5 years ago and dropped from just under 300 lbs to just over 100 lbs — and has kept it off by continuing to eat this way.
Simply put, she reverses the order of what she eats: a heavy dinner for breakfast, regular meal for lunch, then a light breakfast for dinner. Make sense?
In theory, it makes perfect sense to me.
In practicality, it would never work in our house — Jim's a "manly man" who wants his meat & potatoes (and plenty of 'em) for dinner… usually right before bed too!
Personally, I like the concept, but this is one time I'd have to go it alone. (I can usually get him to go the "low carb" or "low fat" route with me on occasion, but never would I be able to curb his appetite in the evening hours!

Highlights from the news:
700 Club — a summary of her story
WizBang — some interesting controversy
Health News – how she did it
Check out this review of the Backwards Diet (aka The Reverse Diet).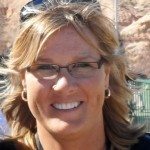 Professionally, I pursued my Masters Degree in Family Therapy at Texas Tech — where I obtained invaluable expertise and experience helping people with a wide variety of physical and emotional health issues. Personally, I think it's useful when people realize that they're not the only one going through a difficult time. So any time that I think my personal health experiences would be helpful to someone else going through the same thing, I will share my story here. With health issues that I've personally experienced (like Endometriosis, Lyme Disease, Hysterectomy, Skin Cancer, Ganglion Cysts, Autism, and other topics that very few people enjoy talking about) and health products that I've found beneficial (like sleep aids, essential oils, and medications)… I do my best to provide my own raw and honest firsthand experiences that I think others would appreciate hearing about and (hopefully) find helpful. I'm grateful that I have a number of friends who have also been willing to share their very personal stories here — regarding their own physical and emotional health. When I'm not writing about health topics, you will find me sharing Good News & Fun Times as publisher of The Fun Times Guide (32 fun & helpful websites).